City walk: the history of our healthcare and University in Utrecht
Visit Utrecht and its history
Visit Utrecht and its history
Always wanted to know more about the history of healthcare or the University in Utrecht? Would you like to see and hear all about remarkable spots in Utrecht that have to do with that history? From 24 June through 22 September, UMC Utrecht employee and city guide Marie-Louise Kuijpers will offer guided tours of historic Utrecht.
Your city guide
Besides being one of our colleagues, Marie-Louise Kuijpers is also a city guide in Utrecht. As a volunteer with Stichting Gilde Utrecht (Utrecht Guild Foundation), she enjoys showing people unique, historical places in the city. Of course she also shares the interesting and often exciting stories that go along with these spots – sometimes looking back as far as two thousand years into the past.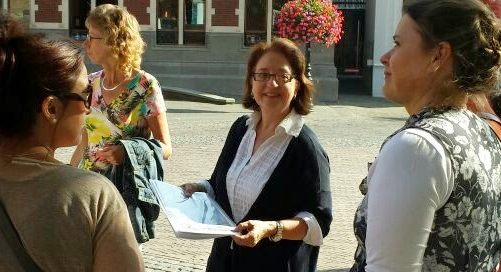 City walk: the history of our healthcare and University in Utrecht
Starting now, you can sign up for three different historical tours of Utrecht. Marie-Louise would love to wander through the city together with you and other colleagues, teaching you all kinds of fun facts about Utrecht! Feel free to ask questions – it only makes things more interesting. Or share something you know about a particular spot, that she might not. Read on to learn more about the city walks taking place as part of this anniversary. Sign up now and take a walk with me!
To sign up, you will need to create a temporary account with Gilde Utrecht. We will use this data only once, in connection with your participation in the walk.
Please bring your UMC Utrecht pass with you on your walk.
From almshouse to hospital
Where can you find the oldest hospital in the Netherlands? Who was the namesake of our Stratenum? When it comes to caring for the sick, Utrecht has a long and coloured history. Together, we will stroll past the predecessors of our modern hospitals – and those of UMC Utrecht – and Marie-Louise will talk about how they have developed since the Middle Ages. We will continue on past almshouses for the poor, which were intended for sick people who had nowhere else to go. The residents received little in the way of medical care and were better off not being there at all. Curious about why? Come walk with us!
Duration: 90 minutes
Meeting point: Servaasbolwerk 1, near Leeuwenbergh (the former plague house).
Registration
Sign up for one of the options below and use the password lustrumumcutrecht1
* These links will be in Dutch
Caring Utrecht
Charity and 'loving thy neighbour' – have they always been altruistic? Healthcare and old age care did not become a right until after 1945: before that, people were simply expected to be grateful for whatever they got. In Utrecht, you can still find many traces of the free church housing, orphanages and old men's and women's homes of yesteryear. We will zigzag through Utrecht's city centre, pausing at special places along the way. These include the Elizabethweeshuis orphanage, the Fundatie van Renswoude, the Doelenklooster monastery and, of course, the Bartholomeetje. Want to know what all those places are? Come walk with us!
Duration: 90 minutes
Meeting point: Museum Catharijneconvent, Lange Nieuwstraat 38
Registration
Register for one of the options below and enter the password lustrumumcutrecht2
* These links will be in Dutch
The University in historic buildings
Why is the façade of the University Hall angled? Is it true that the University Library on Wittevrouwenstraat was once the palace of a king? In 1636, Utrecht University was established in the city centre of Utrecht. While some faculties are still located in historic city buildings, since 1964, most of them have moved to De Uithof. We will walk to the University Hall, stop at the Paushuize (Papal House) and continue on to Drift, where the University still occupies many buildings today.
Duration: 90 minutes
Meeting point: University Hall, Domplein 29.
Registration
Register for one of the options below and enter the password lustrumumcutrecht3
* These links will be in Dutch